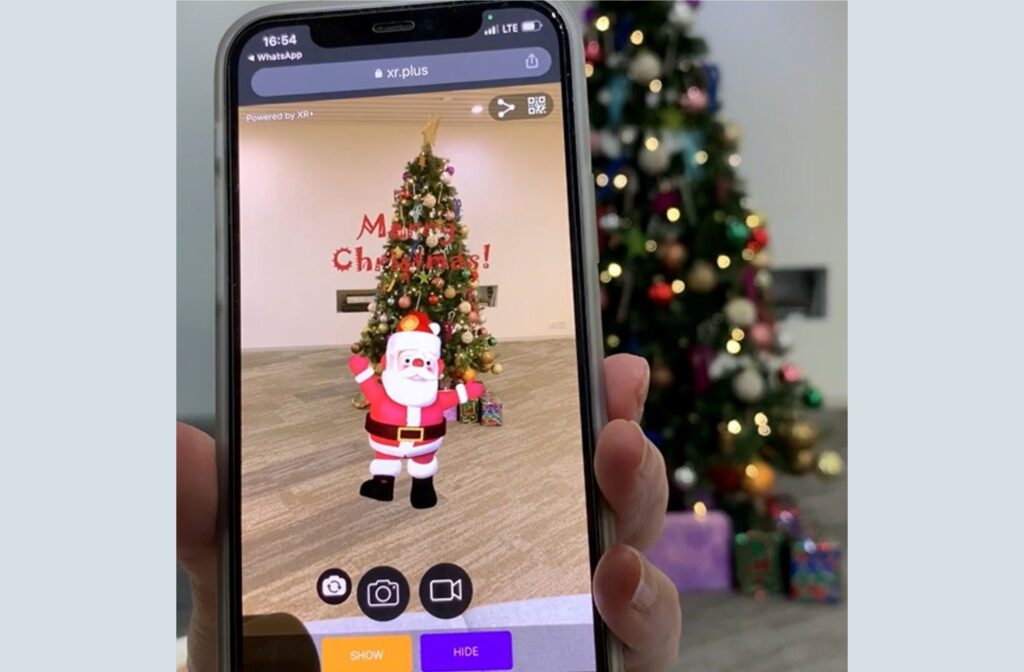 Augmented Reality (AR) is a growing trend among companies involved in mobile computing and business applications in particular. By using immersive technology, more opportunities and experiences across different platforms and media types are on the horizon. Today, after the world has accelerated its transition into the digital realm (the Metaverse is hot these days!), AR is no longer being just nice-to-have but has turned into a digital marketing and sales must-have tool.
Before we dive into this topic, do you know what AR is all about?
AR is an enhanced version of the real physical world that is achieved through the use of digital visual elements, sound, or other sensory stimuli and delivered via technology, demonstrating the below characteristics:
AR combines the real and virtual;
AR is interactive in real-time; and
AR is registered in three dimensions (3D).
Benefits of using AR in sales and marketing
AR has been one of the top 10 buzzwords for tech that can propel your business in 2022, and is predicted to gain a higher prominence for the years to come.
In fact, according to a research study by Facts and Factors, the demand for global AR market size & share in terms of revenue was valued at $15.2 billion in 2021, and it is expected to surpass the $90.8 billion mark by 2028, growing at a compound annual growth rate (CAGR) of about 31.5% from 2022 to 2028. There is no wonder for marketers to find plenty of benefits that AR can bring.
It helps to increase brand awareness.
When using AR in your marketing activities, you cultivate a "wow" factor, getting both your target audience and media to talk about your marketing campaign and, therefore, your brand.

It helps to increase sales.
As Deloitte and Snap Inc. research findings discovered, brands offering custom AR experiences were 41% more likely to be considered by customers. Moreover, almost 75% of consumers admitted they would pay more for a product they could explore with AR.
It helps to improve customer experience.
Using AR in your marketing campaigns can shorten the sales cycle and offer your potential clients more information about the product/ solution in an informative, interesting and interactive manner.
It helps to increase conversion rates.
Better customer experience makes it easier for customers to commit to the product and make a buying decision with less hesitation.
It helps to build a stronger emotional connection with customers.
Research studies revealed that memory encoding is 70% higher with AR experiences than with regular 2D ads, thus creating a strong positive association with your brand.
It helps to reach a younger audience.
Gen Z are more familiar with AR technology and are more likely to seek it in brands they choose.
Take Your Branding To The Next Level
AR activation doesn't have to be high-tech and high-budget. In 2022, AR technology extends into almost every industry including medicine, fashion, beauty, real estate, e-commerce, restaurants, and more! Let's get to know some of the case applications.
Bring your branding materials to life
Printed materials don't have to remain static — you can animate them with the help of AR technology. How about bringing flyers, posters, and business cards to life? When scanned with a smartphone, additional content about your business can be revealed or it can simply impress the person to interact with your POS and printed marketing materials.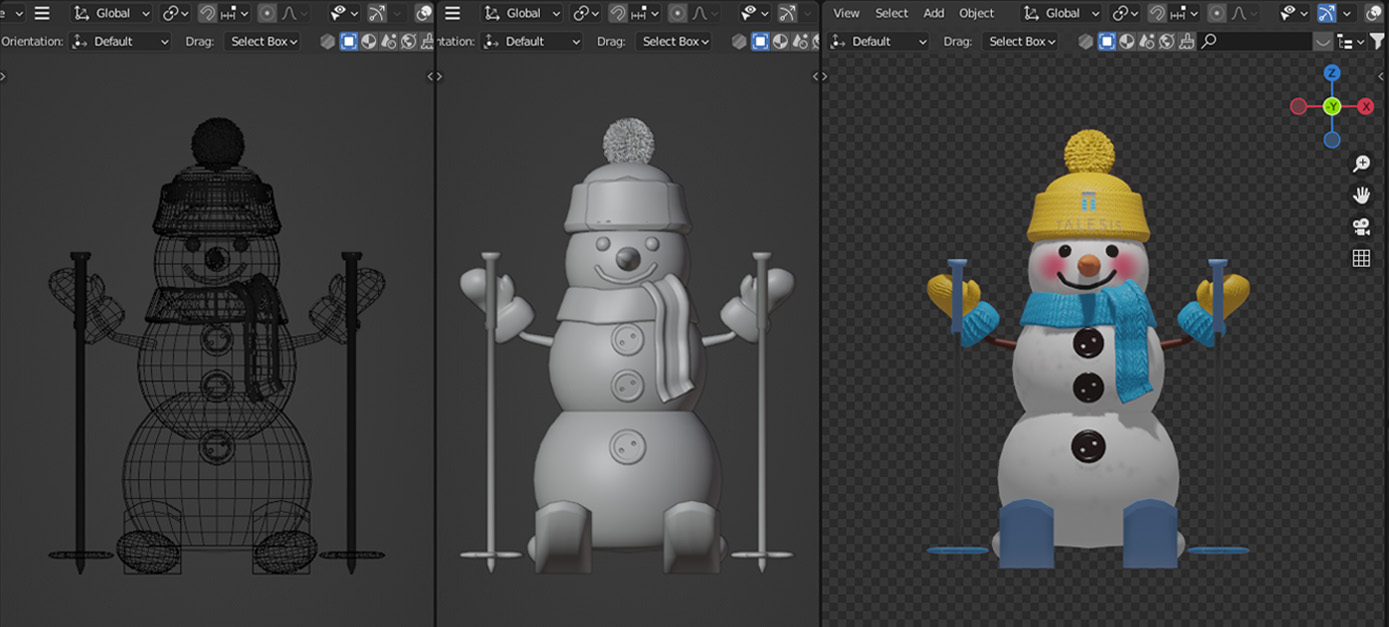 Step away from boring packaging
AR technology can help your brand to create an immersive experience and let customers access exclusive content by simply pointing the phone camera at the product packaging label, whether it be a video, filter lens, or a mini-game activated.
Personalize the shopping journey
Quite many retailers already made use of AR technology to improve the in-store experience. You may have heard of virtual fitting room, where shoppers can try on outfits or beauty products without physically touching the items. The idea is to place the item over live imaging of the customer, so they can check the color, style, and fit of a product on the LED screen panel. With this, people are more encouraged to make purchases.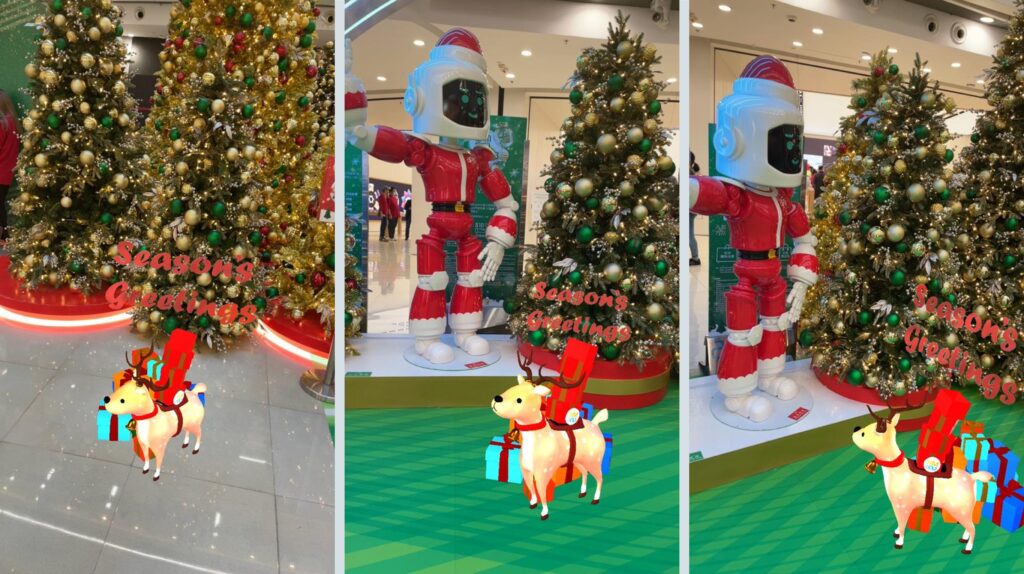 Promote your live event by entering with a bang
How does it sound to advertise your exhibition as having a fun AR experience? While it may seem like a flashy tactic, it's worth to get your booth to stand out and have more opportunities to talk to your guests, visitors and new customers. AR technology is used for all kinds of events such as concerts, festivals, fairs, and exhibitions, in which you can
Attract more people to your ads and flyers by incorporating AR
Get more people to share the event on social media by offering a unique Instagram or Snapchat camera filter and customized photo frames
Place AR markers all around the event and offer a prize for those who collect all the AR stamps, which in turn improve turnout at events
Offer audio-visual explanations of exhibits in the digital format, simultaneously making it more interactive and ridding the need for signage or extra equipment
Make buzz around your brand
The easiest way to use AR to raise brand awareness is to create an AR filter on Instagram or Snapchat. Just make sure it looks pretty so that it has the chance of going viral, and mentions your brand either in the name of the filter or — even better — as a part of the filter itself. And people loved it. Who wouldn't love an interactive game with their own face playing the lead role?!
This year, we also create a unique experience, driven by augmented reality (AR) innovations, to engage everyone with Christmas vibe and share the festive joy to our family and friends near and far.
Easy handling with WebAR technology
In Web-based Augmented Reality or WebAR, AR content is displayed on web browsers like Chrome or Safari, without forcing the consumer to download the app from the relevant app store. WebAR does the same thing as the standard AR app. The only difference is that webAR content lives online on a web page, and hence easily accessible to as many users as possible.
Pros of WebAR
No app installation: Since WebAR content resides on a web browser like a webpage, users don't have to download an app from the app store to experience AR.
Easy Analytics Integration: Since the WebAR content resides on the web page, it is easy to collect user behavior analytics based on click events.
Faster to launch and Ease to Deploy: Web Technologies has the power and flexibility to launch and update features in a short time, similarly to WebAR, which relies on web technology standards like HTML, CSS, and JavaScript for development, so there is no need for dependency on core platforms.
WebAR on the go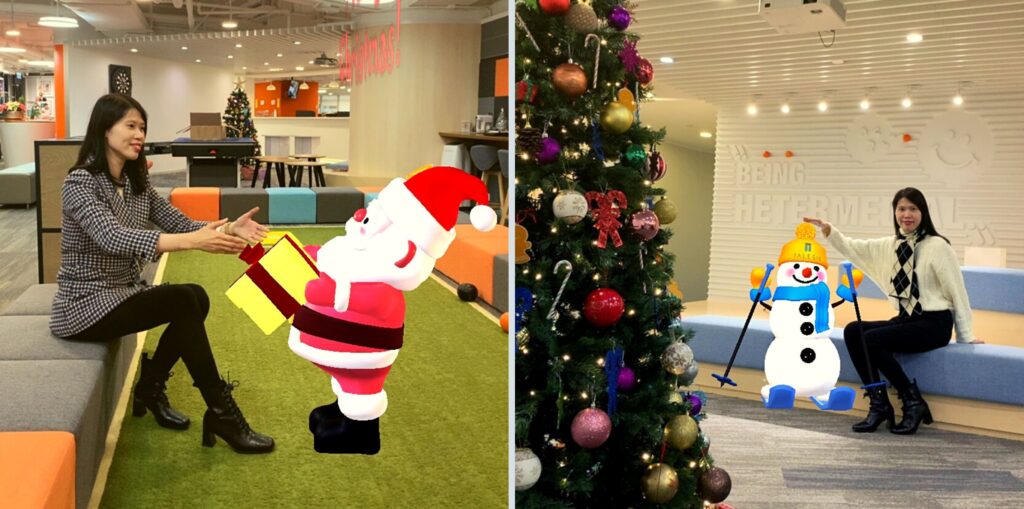 We can also achieve more success with social media marketing by incorporating AR. With a simple scan of the QR code or click on the web link on smartphone, the three little 3D characters come alive by dancing, juggling or skating right next to the device holder. People can easily interact with the characters and the surroundings, and no surprises that they are much more likely to share the photos and videos on their own feed. If it picks up and snowballs, it can easily go viral and you can reach a considerably broader audience. 
AR marketing is here to stay, so let's get on top of this trend
Pretty much all businesses are doing some forms of advertising these days, be it online or in real life. That means consumers have become immune to the regular advertisements and we need to be creative with the ad campaigns to get people's attention. AR makes it the perfect addition to spice up our marketing and set us apart from other competitors.
Interested to tap into the marvelous world of AR? Check it out with us today!